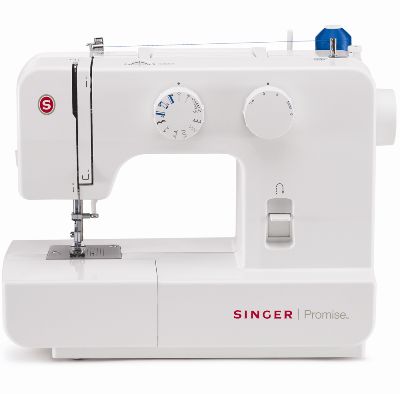 I WANT THIS!!! I saw this sewing machine at Target and instantly wanted it. It was exactly what I've been looking for for awhile and for the right price, under $100! I love that it's simple with all the essentials, sturdy, and compact. All in all a great beginner machine that you can also grow with. I don't have the space for it yet unless I get rid of my vintage Singer, but hopefully soon. Oddly enough, I also prefer anything with knobs and levers rather than something with electronic push buttons! So that was a plus for me. It's more satisfying! I'm kitschy…
Suitable for the crafter who just needs a sewing machine every once in awhile to the budding home sewer to the intermediate seamstress on a budget! It comes with everything you need for most home-sewing projects. No need to buy the buttonhole or zipper foot separately. Or have to shop around for that hard to find foot made of tungsten titanium or whatever for your Bernina. Just plug and play. For those who are serious seamstresses this may not be robust or advanced enough but for most of us home-sewers it could be the perfect sidekick and a good pinch hitter for the occasional advanced project.
~ 9 Stitch Patterns including basic and decorative
~ Automatic 4-step Buttonhole
~ Adjustable Stitch Length
~ Automatic Reverse to reinforce stitches
~ Snap-on Presser Feet, quick release for easy on/off
~ Heavy Duty Metal Frame for skip-free sewing
~ On Board Accessory Storage
~ Free Arm for sewing difficult-to-reach areas
~ Extra-High Presser Foot Lifter for bulky fabric
~ Two Needle Positions for precise top stitching
Included Accessories: Darning Plate for free motion sewing, Spool Caps, Screwdriver, Bobbins, Needles, Lint Brush/Seam Ripper, Oil Bottle, Edge/Quilting Guide, Buttonhole Foot, Button Sewing Foot, General/All Purpose Foot and Zipper Foot
Price: $91.99
Features: Unistyle Buttonhole, Built-In Thread Cutter, Built-In Light, Heavy-Duty Metal Frame, Portable, Reverse Stitch, Free Arm, Light Weight, Built-In Storage, Stitch, Width, Length Adjustments
Includes: Needles, Seam Guide, Extra Presser Feet, Bobbins, Feed Cover, Seam Ripper, Owner's Manual
Number of Stitch Patterns: 9
Bobbin Type: Front Load Bobbin Class 15
Buttonhole Steps: 4 Step
Presser Feet Included: General Purpose Foot, Zig Zag Foot, Zipper Foot, Buttonhole Foot
Dimensions: 12.0 " H x 15.0 " W x 6.25 " D; 14.2 pounds
Warranty Description: 25 Year Limited Manufacturer Warranty
"The 1409 SINGER Promise sewing machine includes all the basic features you need to create almost any project. Basic and decorative stitches include an automatic buttonhole, easy stitch selection with adjustable stitch length and the included darning plate allows your imagination to run wild and become reality. Simple machine threading and an automatic bobbin winder make set up a breeze. A reverse lever is right at your finger tips for automatic stitch locking. Four included presser feet (general/all purpose, buttonhole, button sewing and zipper) are easily accessible in the accessory storage drawer that can be removed to create a free arm for stitching in hard-to-reach areas. Stitches include buttonhole, straight, zig zag, blind hems, rick rack, scallop, and rampart." –Target.com
NOTE: The cheapie Singers had a bad reputation for being all plastic bodies and not very sturdy. However, "Singer made the move back to metal frames even for entry level mechanical sewing machines. This means your machine doesn't bounce all over and is made to last. One review on Amazon claims to be an engineer and approved of the machine engineering." SewSing.com has a nice review on it.
Also, as a coincidence, I happen to have Singer everything almost… From a sewing machine to serger to dress form. It just turned out that way. As a budding home sewer I felt all their products had the right features for the right price thus making it the right value for someone like me.
Where To Buy
Amazon.com, $129.99
Target.com, $89.99