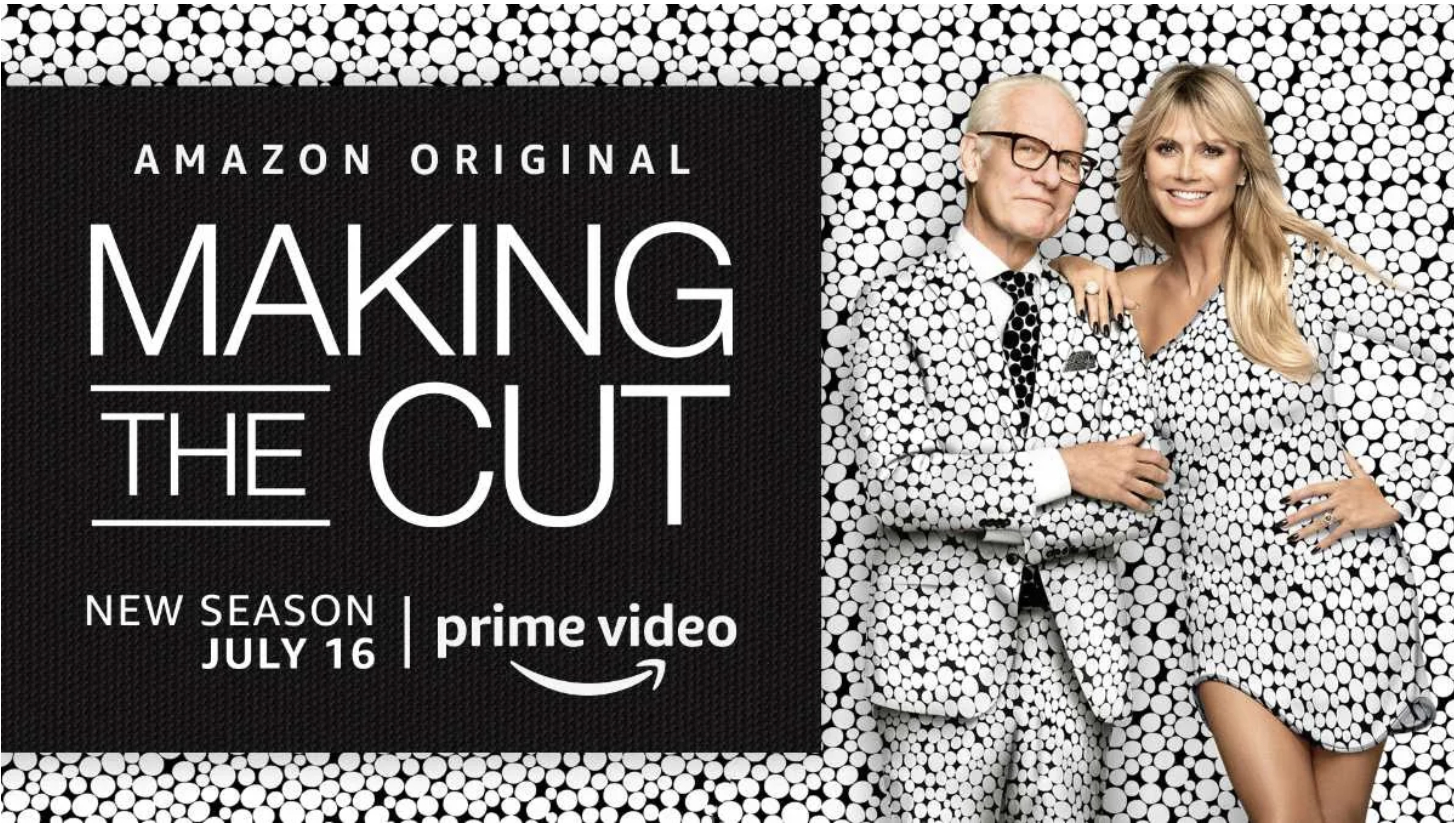 Making the Cut: Season 2 (2021) may be my favorite season yet! I die… died… dead… over Gary Graham. Each season tops itself with the quality of designers, thoughtfulness of the challenges, and prizes any designer would covet! There is always an awesome surprise for contestants and viewers alike! Not to mention the production quality from the ideas to the runway show art direction just get better! All the runway shows are gorgeous!
I got into Making the Cut through Season 3 (2022), which just came out a few weeks ago. For those familiar with Project Runway, both are Sewing/Fashion Design competitions for aspiring designers hosted by Heidi Klum and Tim Gunn (the mentor of everyone's dreams)! Making the Cut is just an infinitely better version and is the new show created by Heidi and Tim after leaving Runway.
For home-sewers, seamstresses, and aspiring fashion designers it can be a wonderful show for inspiration or just to see what creative designs people come up with. Viewers may also have very definitive tastes and opinions on what you love and don't love! It's chock-full of some amazing designers! So far each season has one that is just AH-MAZING!
If you're new to Making the Cut, see below for more about Making the Cut. Check out all my posts and ways to watch or how to buy!
Here are all designs from Season 2 along with finale collections.
**Warning: Spoilers Ahead**
Season 2 Recap
Making the Cut: Season 2 takes place in Los Angeles. 10 designers from across the globe face off to be the next great global fashion brand. The grand prize includes $1 million to take their brands to the next level, a mentorship to grow their fashion business, and retail space in DTLA! The winning finale collection will also be sold on Amazon Fashion. Along the way, each episode's winner will have 1 winning look sold immediately in the Making the Cut Store on Amazon. There may also be bonus prizes like trendy collaborations with Levi's and surprise venues like shutting down Los Angeles' Rodeo Drive for the "runway-offs". There are many talented designers in this season.
Season 2 Designers
10 Designers from 6 different countries are features this season from United States, Colombia, Poland, India, France, and Australia. Their backgrounds are all so diverse bringing so many different personalities, perspectives, and unique creativity and aesthetic. Many designers are already emerging designers who have established fashion brands.
Judges: Jeremy Scott, Winnie Harlow, Heidi Klum
Finalists: Andrea Pitter, Gary Graham, Andrea Salazar
Winner: Andrea Pitter
Designers and Their Looks
Lendrell Martin Looks (eliminated Episode 1)
Modern, Minimal, Clean, Stylish. There wasn't much to go on since he got cut in the first episode but the pants set is nice enough. Silhouette in the pants with the relaxed fit, length, and slight drop crotch and the nice fit in the outfit overall are nice. I feel it can appeal to everyone from the fashion photographer to graphic designer. I can see it appealing in Asia markets as understated streetwear.
Dushyant Asthana Looks (eliminated Episode 2)
SO California! I loved the chambray onesie and the fabric and print choices. I only see some Indian influence in the materials and fabrics, plus maybe in the prints? And in the tunic? I can see many a Brooklynite (of a certain type) wearing the pink thunderbolt top too. Otherwise, 100% California.
Olivia Oblanc Looks (eliminated Episode 4)
Definitively streetwear based heavily on workwear… I did not like any of her designs. They all seemed outdated. Like they would have been fresh in the 90's? It was giving me Target meets Hot Topic vibes… I feel like her clientele is extremely young, suburban, and would most likely shop in mall shops like Claire's. Silhouettes like JNCO jeans (and UFO pants) are making a comeback but even those are re-imagined in fresher styles. And she didn't even do those! The white wedding dressing with bodysuit and sheer skirt she did with Andrea Salazar was the only nice thing.
Lucie Brochard Looks (eliminated Episode 6)
Architectural French Chic with a definite Korean influence! I loved the red dress she opened with in episode 1! I liked everything (even the Disney-esque Prince Charming tuxedo) except the black trench coat, yellow trench coat, and beach-y stuff she did with her signature pleats. I can see these designs appealing to the Asia market for sure, the hip young Korean professional. I can see her collaborating with Uniqlo.
Andrea Salazar Looks (Finalist)
Rocker Glam with Feminine Vibe and Cowboy Sensibility. She had a very definite, recognizable style. Whether I liked it or not, it was really done tastefully and it always looked good. She has great styling too. I really liked the dress in episode 1 and the dress with bodysuit and sheer skirt in episode 3! Everything is super pretty. I think her clientele is the aspiring starlet in Hollywood who wants to stand out and feel glitzy!
Gary Graham Looks (Finalist)
My fave designer! Rockabilly meets Edwardian Victorian Future! He was just SO FRESH!!! EVERYTHING was so exquisite, original, definitive to his design aesthetic. His original prints were killer. All the dresses he came up with were just amazing. Jeremy Scott was a hero for trying to champion him. He was literally a cut above everyone else in genius and talent. I think his designs would appeal to artists with excellent style. For the record, I thought he was hyper modern! Blade Runner-esque! But if Handmaid's Tale was the future instead.
Andrea Pitter-Campbell Looks (Finalist)
Winner, Season 2! Classic, Modern, Commercial. I was not a huge fan of her style or clothes. I personally felt she did have serious skills in fitting all body types. But I did not like her design aesthetic or her eye. I liked her bathing suit set the most. It was cut to perfection. I think her clientele would be like an Asos or Shein lady but more upscale. Perhaps, more of a Boohoo! Or anyone who has graduated from Nasty Gal, Pretty Little Things, or Fashion Nova.
Finalists Episode 7 Concept Store Pop-Ups
My fave concept store was Gary's! It had this nostalgic folk museum feel but make it modern art! Andrea Salazar's concept was great too. It was young and hip. I did not like Andrea Pitter's pop-up. I liked the idea but not the execution.
Finale Runway Collections
My Top Picks
All designers had great personal style. Their designs reflect their personality, perspectives, backgrounds. The designs they create also match their person.
My top picks are Gary Graham (hyper-modern like DIA: Beacon/Storm King Modern!) and Andrea Salazar. I also liked Raf alot with his romantic Eastern-European sensibility.
Ways to Watch
All seasons of Making the Cut are available on Amazon Prime Video.
Amazon Prime Video comes free with an Amazon Prime Membership or can be purchase alone.
More ways to watch found on IMDB. More detailed info can be found on Wikipedia and Instagram.
Making the Cut, first launched on Amazon Prime Video in 2020, is an Amazon Original Series. All image credits in this post are copyright of Amazon Studios.
Where to Buy
Making the Cut Homepage here.
Making the Cut Store here.
Amazon Fashion here.